visualizing gambling trends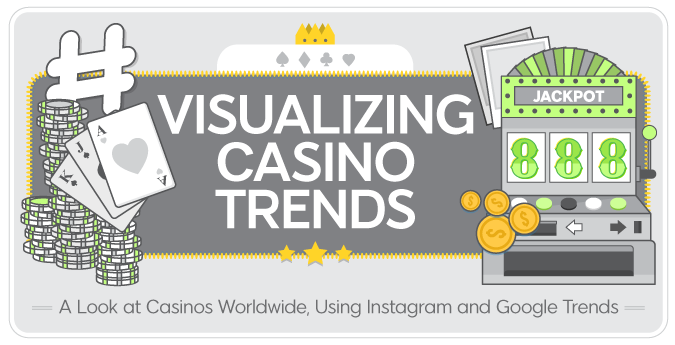 Fun. Excitement. The opportunity to win big. When it comes to the world of gambling, both glitzy casinos and fast-paced online gaming locales draw passionate fans around the world. But the most popular gaming hotspots – Las Vegas, Atlantic City, Macau, Singapore, and Monte Carlo – each hold unique allure.
We wanted to know more about how people gamble around the world. Using geotagged Instagram posts and Google Trends data, we gathered, analyzed, and mapped information to gain insight into gambling trends. Where are people going to gamble? What are they playing? And when it comes to gambling, what are they posting about on Instagram and searching for online? Keep reading to find out what we discovered.
Instagramming about gambling
First, we turned to Instagram – a photo-sharing social media platform with 400 million monthly active users worldwide – to examine trends in major gambling regions. Analyzing geotagged posts originating from casinos in major gambling cities revealed an interesting breakdown of hashtags. Clearly people enjoy getting out and being part of the action: Nearly half of all the gambling-related posts we examined included the hashtag #casino.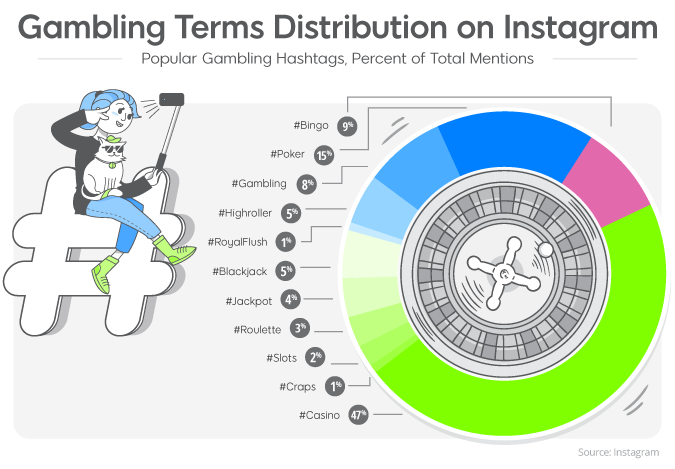 A  
study ranking the popularity of various games
 pegged slot machines first, followed by blackjack, poker, roulette, video poker, and craps. However, the posts shared on Instagram don't necessarily reflect the most popular games among typical U.S. casino visitors. As of January 2015, nearly 60% of U.S. Instagram users are between 18 and 34 years old – so it isn't surprising that Instagram posts may convey the opinions of young adults especially.
The second-most common hashtag was #poker, which was attached to more than 15% of posts. The hashtags #bingo (9%), #gambling (8%), and #blackjack (5%) ranked next. The least common hashtags were a mix of the specific (#royalflush, representing 1% of tags) and general (#jackpot and #highroller, with 4% and 5% respectively). But interestingly, #craps (1%), #slots (2%), and #roulette (3%) were also among the least common tags. Why aren't hashtags of the casino games more common?
When it comes to table games, revenue from craps has been on the decline in recent years, and although roulette is popular in Europe, it represents a mere 5% of gambling revenue in the U.S. But why don't #slots posts appear more? For many people, casinos bring to mind the lights and sounds of the slot machines, but experts point out slots aren't a draw for everyone. Driven by a strong sense of community, young gamers today (Millennials in particular) tend to prefer interactive games during which they compete against other people rather than machines. Thus, they tend to forgo slots and instead gravitate to table games – or to bars and clubs – to fulfill those social desires.
Now that we've examined the breakdown of gambling terms, let's take a look at which cities these casino-related Instagram posts are originating from.
Top gambling cities on Instagram
Which city sees the most action when it comes to Instagram posts with gambling-related hashtags? No contest: Las Vegas. Over 107,000 gambling photos originated from Las Vegas – more than seven times the next-highest location. More than 42 million people visited during 2015.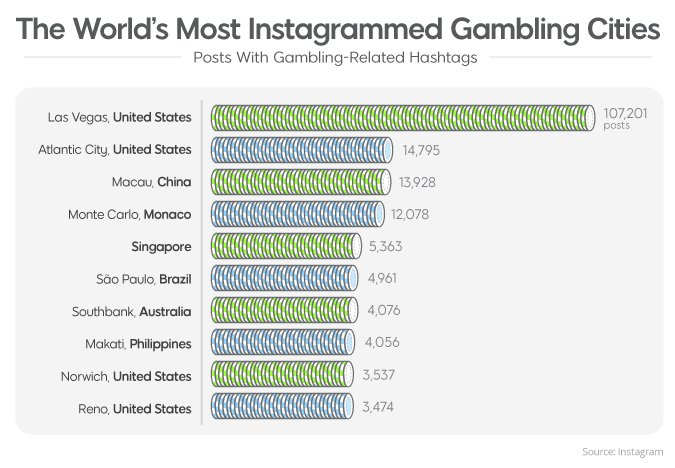 Atlantic City claims second place, with nearly 15,000 posts. New Jersey's gambling hotspot got its first casino in 1978 and has spent years playing second fiddle to Las Vegas. The city, once a glittering mecca of gaming, has struggled in recent years due to increased competition from casinos in neighboring states New York and Pennsylvania. In 2013, 26.7 million tourists went to Atlantic City – marking the eighth straight year of declining visitor numbers.
Macau comes in third with nearly 14,000 gambling-related Instagram posts. While thinking about the world's premiere gambling city brings to mind Las Vegas for many people, Macau – a 12-square-mile former Portuguese colony that became a special administrative region of China – is actually the largest casino gambling jurisdiction in the world. Each year, visitors flock to the glamorous city (the only spot for legal gambling in China) to gamble at one or more of the territory's 35 casinos.
In fact, in 2006, Macau finally recorded 
a higher annual gambling revenue
 than Las Vegas, and by 2013, Macau's annual gambling revenue soared to $45 billion (nearly seven times Las Vegas's), though in 2015, it dropped to less than $29 billion. But although income is dwindling, visitors have actually increased – in 2014, 31.5 million people visited Macau, representing a 7.5% increase over 2013.
Given Macau's status as a gambling heavyweight, why don't more Instagram posts originate from the area? For starters, nearly a quarter of Instagram traffic originates from the U.S., which means the country likely sees more posts period. (Like many social networks, Instagram is blocked in mainland China, although the ban does not apply in Macau because it enjoys autonomy as a special administrative region.) Another theory? While Vegas attracts mainly tourists, Macau draws high rollers. In fact, the average gambler in Macau spends an average of nearly nine times more than a visitor to Vegas – and serious gamblers seem less likely to snap and share photos than tourists.
Located in the principality of Monaco, Monte Carlo saw more than 12,000 Instagram gambling posts. The lavish resort town has a 
rich history
 of gambling, with the first casinos appearing on the scene in 1854. It's the wealthiest 0.76 square miles on the Mediterranean, and the casinos, like Macau's, are filled with high rollers not necessarily interested in posting casino selfies on social media. In the U.S., only around a quarter of Instagram users have an annual household income of more than $75,000. The hashtagged posts we examined also reveal a number of up-and-coming gambling hubs: Singapore exceeded 5,000 posts; Sao Paulo, Brazil hit nearly 5,000; and Southbank, Australia topped 4,000.
We zoomed in on the top five gambling destinations to pinpoint which parts of town many of these Instagram posts originated from. Every city has its hotspots when it comes to Instagram sharing. In Las Vegas, the Strip – the more-than-four-mile stretch of Las Vegas Boulevard South – dominates when it comes to visitors sharing their photos on social media.
On the other side of the globe, many of the Instagram posts out of Macau originate from the Cotai Strip – Macau's version of the Vegas Strip. Located on reclaimed land between Coloane and Taipa, the area boasts numerous hotels, casinos, and entertainment options. Its largest property – in fact,
the largest tourism project in the world
 – is Sands Cotai Central, an integrated resort owned by Las Vegas Sands Corporation.
In Atlantic City, posts predominantly come from an area centered around a stretch of Pacific Avenue that's home to numerous casinos, including Trump Taj Mahal, Bally's, and Caesars. In Monte Carlo, Instagrammers share most along Place Du Casino – especially near the majestic Hotel de Paris. Users in Singapore snap photos most from the area around Marina Bay Sands – the most expensive casino resort ever constructed.
Next, we examined the growth of gambling-related Instagram posts over time in the top five cities for gambling.
Timeline: gambling city Instagarm posts
In many of the cities we looked at, the growth of Instagram posts appears to correlate with the growth of the social media network itself: After all, by the end of 2010, Instagram had 1 million users, and by September 2015, it had 400 million. But gambling-related posts on the photo-sharing service do see specific peaks and valleys during certain time periods – revealing that some locations are year-round destinations while others are more seasonal.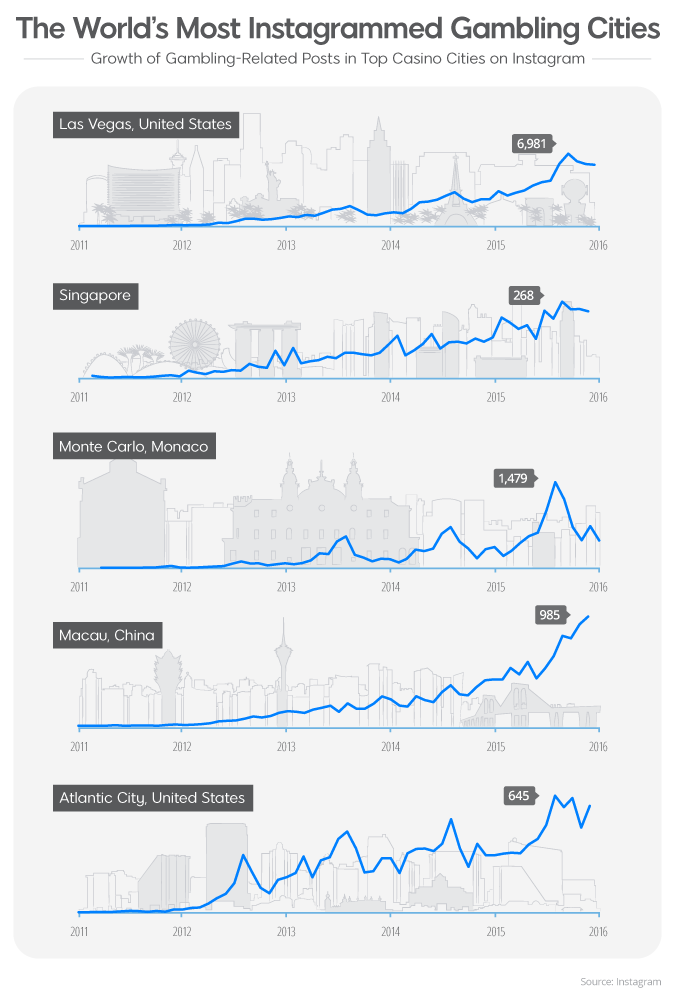 Instagram posts in Vegas grew steadily during 2015, correlating with the increasing number of visitors: 41.1 million in 2014 and a record-breaking 42 million in 2015. Unlike some vacation destinations, Vegas doesn't see a spike in Instagram posts during the summer, as its soaring temperatures prompt many visitors to book trips in the spring or fall. New Year's Eve is a popular time to visit, as well. Posts peaked in September, nearing the 7,000 mark – notably, when the Life is Beautiful music festival drew massive crowds to the area.
In Monte Carlo, Instagram posts spike every summer, presumably as vacationers head to the beachside city for fun in the sun. Posts maxed out at nearly 1,500 during August 2015, when the city held its star-studded Sporting Summer Festival, featuring the likes of Tony Bennett and Lady Gaga – not to mention an international fireworks competition.
Tracking gambling interest online
We used Google Trends to discover the biggest cities for searches of various gambling terms – and then we compared those results with gambling-related Instagram posts from the same cities. Google Trends affords greater insights into online trends (such as which types of online gaming people search for), while Instagram is a better tool for analyzing trends in casino gambling.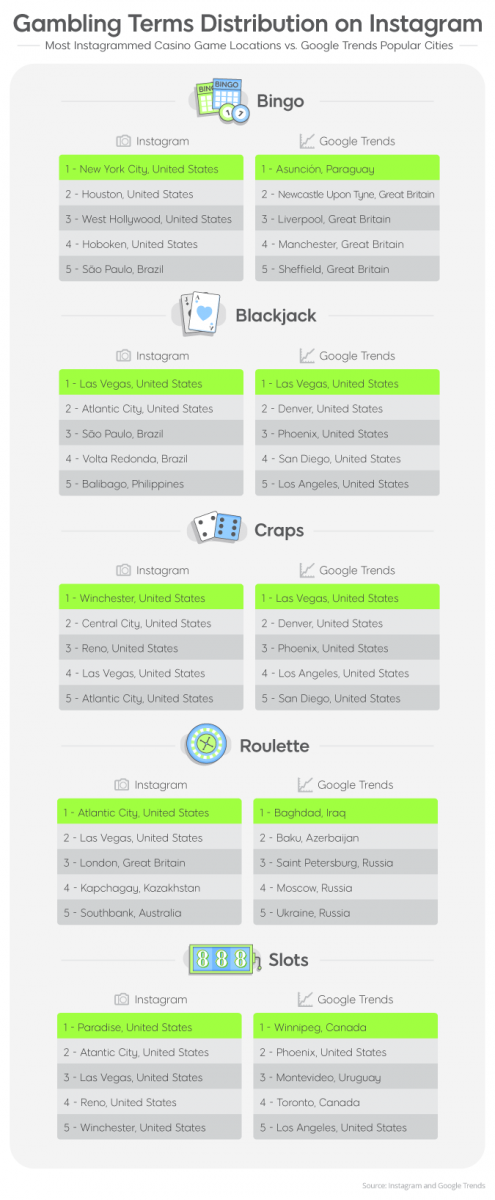 U.S. cities claimed the top two spots for Instagram post numbers for all the terms we looked at – not particularly surprising given Americans' penchant for the social media site. But the rest of the results yielded fascinating insights.
Instagram posts about bingo were most numerous in New York City. In New York, the popularity has grown in recent years thanks to frequent payouts and generous jackpots. However, Google Trends tells a different story: The top city for Google searches for "bingo" was Asunción, Paraguay, followed by four cities in the U.K. Bingo first appeared in the U.K. in the 1960s – and it became popular immediately. Its popularity continues to this day; in fact, in recent years its fan base has surged. More than 3 million Britons visit bingo halls to play, and more than 100 million play online and live bingo around the world.
The capital of Paraguay, Asunción is home to more than 680,000 people. Bingo has been ingrained in the culture for decades and continues to be popular there – a local casino has a bingo hall that boasts bingo tournaments and more than 100 winners a day, and people in Paraguay enjoy playing a televised bingo game called Telebingo Triple. Typing the phrase "Telebingo Paraguay" into Google prompts the search engine to autofill the next phrase: resultado, which means result. This could explain the high number of Google searches.

Las Vegas won the jackpot both for Instagram posts about blackjack and Google searches for blackjack. In fact, the next four blackjack-heavy search locations were Western U.S. cities as well. It's likely that online gaming comes into play.
Though craps is considered a popular table game, it was only mentioned in 1% of Instagram posts about gambling. The top city for #craps on Instagram? Winchester, Virginia – a small city of nearly 28,000 people, located near numerous casinos. As for Google Trends data, craps search data mirror the blackjack stats of cities – these searches were likely generated predominantly by online gamers.
Atlantic City was the hub for Instagram posts related to roulette – after all, the city is home to numerous casinos where people can play it. Searches for roulette, though, paint a different picture: Baghdad is the top spot; Baku, Azerbaijan, is second; and three cities in Russia complete the top five. Among countries worldwide, Iraq is 83rd for total gaming revenue, Azerbaijan ranks 71st, and Russia is 12th – not exactly gambling meccas. Likely, many of these searches related to online gaming; Russian players, for instance, are heavily represented on online gaming sites.

Instagram #slots posts and Google searches for slots reflect well-known locales for slots. Vegas's neighbor Paradise, Nevada – which technically is home to much of the famous Las Vegas Strip – led the pack for Instagram posts, followed by Atlantic City, Vegas, and Reno. Searches for slots peaked north of the U.S. border, in Winnipeg, Manitoba. Popular gaming destination Casinos of Winnipeg features more than 1,700 slot machines, and the province has its own online gaming venue operated by the government. Second-place Phoenix offers numerous locations where people can try their luck. Montevideo, the largest city in Uruguay, was the only non–North American location to make either list.
Mapping Most-liked gambling hashtags on Instagram
No examination of Instagram posts is complete without considering the popularity of each type of post. Next, we ranked gambling-related Instagram posts in each location based on the average number of likes each post receives.
Tallying how many likes a post on Instagram receives is a good way to determine sentiment toward its subject. We analyzed the number of double-taps users awarded each term in various countries known for gambling. Overall, general terms (such as #gambling) and positive terms (think #jackpot) tend to get the most love from fellow users overall.

In the U.S., poker reigns on Instagram: Hashtagged #poker posts garner an average of nearly 54 likes. The fun hashtag #highroller comes in second, while #jackpot claims third place. In Great Britain, #casino, #highroller, and #poker are in a three-way tie for first, averaging 27 likes apiece. And everyone loves a high roller: The No. 2 most liked hashtag is #highroller, which garners 27 likes on average.
In Canada, the general hashtag #casino ties #jackpot for first place with 29 likes, while #gambling comes in third. The hashtag #gambling averages 62 likes in France, while #slots comes in second, and #casino takes third. #bingo garners the most double-taps in Malaysia – a whopping 57 likes on average – while #highroller and #gambling take second and third. Posts from China see a fairly even distribution of likes: #jackpot and #casino average 29 apiece, while #gambling comes in third with 23.
Around 4% of the world's Instagram traffic originates from the U.K. To get a snapshot of gaming-related photo-sharing tendencies, we mapped the origins of gambling posts across the U.K. London is the hub for Instagram posts, and the majority of gambling posts bear the hashtag #casino. Additionally, #bingonight and #bingo are common hashtags in London, demonstrating the fun-loving city's fondness for a night out with a cold drink and a few bingo cards. Another popular tag that shows up in numerous cities is #poker, though Liverpool sets itself apart as a #bingo hotspot.
The U.K's top gambling hashtags on Instagram
Which hashtags make the most appearances in U.K.- based Instagram posts about gambling? Across the board, the general tag #casino is most commonly attached to photos. #bingo is another popular term – especially in Liverpool. Residents can even head out to weekly bingo parties that take the game to a whole new level.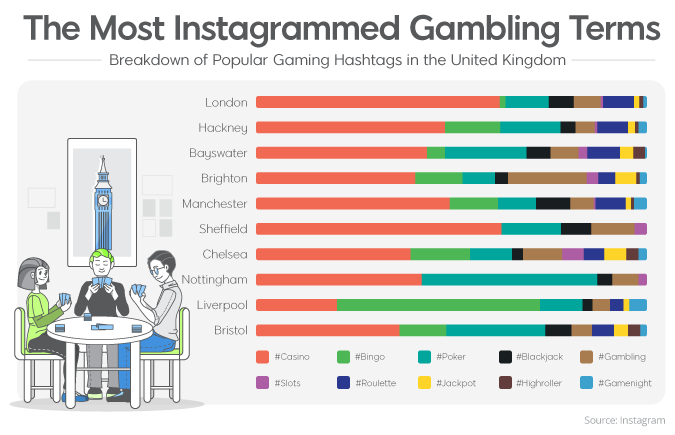 The hashtag #poker is popular, especially in Nottingham, which is the home of the popular Dusk Till Dawn Casino – a high-capacity poker room that hosts live tournaments. The tags #blackjack, #gambling, and #roulette also appear with relatively high frequency.
Top gambling hashtags on instagram in gambling cities
The hashtag #casino is the reigning champ in gambling-related Instagram posts in the five cities we analyzed. Monte Carlo had the highest proportion of #casino posts, with Macau following close behind. In the second spot is another general hashtag: #gambling. This catchall was especially popular in Atlantic City, Las Vegas, and Macau. The term #highroller was by far most popular in Las Vegas, and #blackjack was used with disproportionate frequency in Singapore.

Be part of the action
As the gaming industry changes, it will be interesting to see online conversations about gambling evolve. Today's cutting-edge technology has changed the scene in once-unimaginable ways: People are snapping photos for immediate sharing from their favorite casinos, researching their favorite games online, and turning to online gaming thanks to the convenience factor, higher payouts, and the fun and excitement.
Our study revealed an interesting glimpse into the world of gambling through the lens of Instagram and Google Trends. Nearly half of the gambling-related Instagram posts we examined included the hashtag #casino. People in Las Vegas – especially along the Strip – are sharing more gambling-related Instagram posts than anyone else. Vegas visitors also share the most posts about blackjack and perform the most online searches for blackjack and craps.
Though the U.S. dominates social media gambling posts, emerging global gambling hubs are growing in popularity. People go to different gambling cities for different things – casual gambling in U.S. cities vs. serious spending for high rollers in Macau, Singapore, and Monte Carlo. And these hubs are responding by offering a robust range of experiences: deluxe accommodations and dining, high-quality entertainment, and even special draws such as tattoo studios, dance parties, and rooftop pool parties. Some gambling destinations are seasonal, while others draw visitors year-round. Slots aren't getting as much play as they used to as social gamers look for more opportunities to mingle, but bingo may be bigger than we thought – especially in Paraguay.
Would you like to get in on the exciting world of online gaming? Visit 888.com to take part in fun tournaments, enjoy generous welcome bonuses, and play alongside millions of others in our global community – all in a safe and secure environment.
Methodology
We used the Instagram API to scrape posts that contained the hashtags listed below. Instagram posts gathered originated 2011 through February 2016.
#casino
#gambling
#blackjack
#slots
#poker
#royalflush
#jackpot
#badbeat
#deepstacks
#highroller
#craps
#roulette
#bingo
#gamenight
#pokernight
#bingonight
For the Most Liked Posts in Popular Gambling Countries, users who had an excessive amount of posts mentioning a single hashtag were excluded.
Winchester, Las Vegas, and Paradise, NV Instagram posts were combined.
Maps: We entered the date of the post and latitude/longitude into cartodb.com's torque feature.
Google Trends: Search prevalence was determined by examining terms on google.com/trends.
Sources
Fair use
Feel free to share the images found on this page freely. When doing so, please attribute the authors by providing a link back to this page, so your readers can learn more about this project and the related research.